Today I will be talking about All THINGS SPRING for 2011 FASHION! Each week I will be focusing on a few of the hot trend items from my list of "Top Ten Spring Must Haves" that are out there right now. I will also be letting you know the styles to keep your eye out for, so you to can be a style trend setter!! And lastly, I will be picking a style star of the week, and pointing out some stars that need to fire their team because they look like a hot mess!! SO LETS TALK F-A-S-H-I-O-N.....

B ON THE LOOKOUT FOR: LITERAL PRINTS


Dior Couture Fall 2010/Paris Fashion Week
Not only are prints BIG this spring, but literal prints are in full swing! If you haven't started to notice yet, you will start to see animal prints in the form of full pictures of animals on shirts. Floral prints will not be just printed as the design on a shirt, but a whole picture of a flower on the shirt. This trend is also expanding to shoes, bags, and accessories, which I will talk more about below. The most common style for this trend I am seeing in stores is over sized t-shirts with faces of leopards, zebras, and other exotic animals! If you like BIG AND BOLD, this is definitely a style that is sure to attract attention! There are pics below of some current literal prints out on the streets of fashion now..
Cute literal print panda beanie

Flowers with full stem and all are in full bloom!!!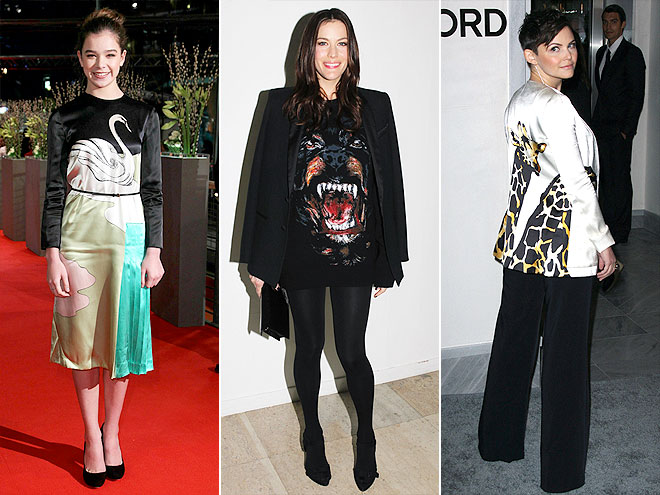 HOT COLOR ALERT!!!..CHARTREUSE
This color is great for spring and summer, but definitely not an easy color to wear. Chartreuse is a mix of a bright canary yellow and a lime green. I think this colors looks best paired with black accessories! But people with light skin tones and fair colored hair, should be weary. Since this color is so bright, it tends to wash out light hair and skin. People with more olive skin tones and dark colored hair have a better chance of wearing this color well. For those avid Chartreuse lovers out there like me who can't wear it in it's full form, there is still hope! You can always add the bright light of chartreuse by adding it in the form of a colored hair accessory, or bold statement necklace, or even a pop shoe color! Go bigger and BOLDER by adding it to your eye makeup!! One thing is for sure, when wearing this color you are sure to be a SHOW STOPPER!!!
CHECK THIS OUT!!....SERPENT JEWELRY
When you first think of Snake Jewelry, the first celebrity that might come to mind is Angelina Jolie. She has single handedly made serpent jewelry sleek and sexy, and a must have item for spring and summer! These trendy fun pieces also fall under the Statement Jewelry and Literal Piece category. These items are very versatile because you can wear them as earrings, bracelets, rings, necklaces, even hair accessories!
There is a website I encourage you to check out if you like to create this Grecian, edgy look. It is called Make Magic Twist http://www.makemagictwist.com. You can buy a flexible band in multiple colors, and twist it into whatever piece of jewelry your looking to create. One day you can make a ring, the next shape it back into a necklace, very fun!!
This years serpent trend has formed from last years popular item, the braided look(see picture above), and now it has taken a more literal shape. Also falling into springs hot "Literal Look" is insect jewelry. I have a picture below of a pendant that combines the insect look with snakes on the sides, which I thought was really interesting!! Especially in spring I tend to see a lot of butterflies and bug shaped jewelry. Also Owls, Elephants and Leopards are common pieces of literal jewelry to keep your eyes open for!!!
THE CLOSET CHANGEOVER - FROM WINTER TO SPRING!
Depending on what part of the world you live in, it's probably that time of year again to put away all your heavy winter coats and, and put on something fun and flirty! It's a freeing experience when we don't have to be covered all day by long pants and layers on top. There are perks to every seasons variations of styles and colors. In the winter you can bring out your fun holiday party cocktail dresses, paired with some great shiny accessories. But in the SPRING the color comes BACK in pastels, and brights, and you can wear long flowy skirts with florals and cute sandals. I love color, and spring is definitely the season to EMBRACE IT!!
I do my spring change over on March 1st annually. Ideally, you would want the day you bring out your spring clothes to be bright and sunny! For me this year, it was quite the opposite unfortunately. March 1st here in San Diego, happened to be one of the coldest days of the year and we had a bad winter storm and it snowed. No you didn't read that wrong, it actually SNOWED! And then there was me wearing my spring floral maxi dress, a little out of place and cold to say the least. But I literally could not wait another day to put away all the black and grey, and get out all my feminine florals!! I would love to hear about all your closet change over stories:-) I hope you have enjoyed doing your spring change over this year, or are in the process of doing so now!
This Weeks Style Star, and Those Who Missed Their Mark...
Dianne Krueger at Cochella Music Festival
This is the perfect example of effortlessly chic. I love the straw fedora, one of the hottest hats out there this spring. Along with the flowy maxi skirt, minimal(but well placed) accessories and the strappy wedge sandal. Neutrals with hints of black are all the rage this season. She hits all her mark in this look, and that's why I chose her to be the Style Star of the Week!
Malin Ackerman
When I see pictures like this I think to myself "who let this person out of the house?!?".Celebrities obviously have a wealth of money and teams in place to make them look great at all times. If I were in charge of this persons career, her styling team would be FIRED! It looks like there are pieces of tape randomly placed all over the dress. Someone of her petite size should not wear something with that high of a neck because it makes her look boxy. Her hair is all a mess, and that is not the "cute bed head" look either. The only thing she did get right is the black with the neutrals. As I had mentioned above, that is a huge color trend this spring. If you have read my past posts, I have raved about Malin's style many times. Unfortunately, this is not one of her best look and that makes her my Style Miss Of The Week.